5 authors explore European identity and 6 artists bring their work to life on the stage.
At a time of crisis for Europe, when economic and social issues threaten its core values, what stories do Europeans still want to write together?
Do they dream of fusion, federation or independence? Do they perceive the distant echo of an old continent that was in the midst of tearing itself apart 100 years ago?
Finally, how do the rest of the world regard our small corner of it, once so dominant, so rich and so diverse, and now in search of a new, inter-cultural identity?
Theatrical creation is harnessed as a means of exploring these issues, fostering a dialogue between increasingly polarised parties. Theatre, as a tool of cultural exchange and communication, can breach gaps between individuals and encourage relations of open communication – both with oneself and others. 
Participants must re-evaluate what it means to be European, before posing the question to their audience. What story of their identity have they already forged, and what story are they ready to tell, or even to dream?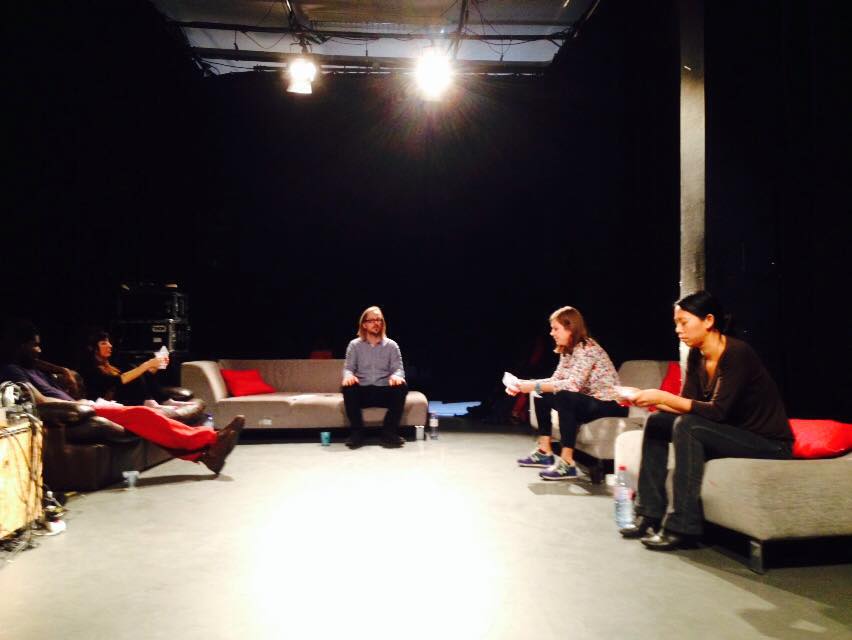 Five authors, three from Europe, one from South Korea, and one from the US, created original pieces exploring the concept of identity and the co-existence of multiple cultures. Each writer came from a society deeply touched by such concerns, and so brought a personal element.
Throughout the program, they exchanged ideas and methods, conducted writing workshops, and held meetings with experts, all to draw inspiration for their new writing. 
With the 5 texts in hand, an artistic team took over and created a show. Coming from Belgium, Spain, Great Britain, Germany, Hungary and France, these artists produced a Cabaret, expanding the writing and bringing it to life on stage in story and song.
The fragmented form of the texts allowed flexibility in form and expression, resulting in a fluid, hybrid format uniquely suited to stimulating a dialogue with the public.
Writers: Jean Bofane (Belgium), Dan Friedman (US), Kwang-lim Kim (South Korea), Borbála Sebők (Hungary), Andreas Wrosch (Germany).
Performers:  Pak Yan Lau (Belgium), Donna Males (UK), Forbon N'Zakimuena (France), Iker Ortiz de Zarate (Spain), Natasa Stork (Hungary), Jessica Walther-Gabory (Germany).
Artistic Direction:  Bruno Freyssinet (France)
Musical Direction:  Michael Wolteche (Belgium)
Assistant: Arthur Navellou (France)
Costumes: Antonin Boyot Gellibert
Kick-off meeting in Brussels, Belgium, hosted by Maison de la Création, (Jacques-Yves Le Docte).
Author's residency in Berlin, Germany. The 5 authors met with the director and the musical director to plan the writing process.
Author's tour of Europe. 3 parallel sessions in each of the partner countries: the authors work on site to develop their writing, meeting local people, and conducting workshops.
15th Sept – 6th October 2014
First rehearsals: for 3 weeks, the 6 performers gathered for the first time, with one from each of the partner countries.
Partners meeting in Paris, at Carreau du Temple. Planning of a tour schedule scheduled 8 months later.
Rehearsals at Carreau du Temple for the first version of the One Land Many Faces production.
30th January-4th February 2015
1h30 musical show staged in a quadri-frontal scenic device. 
7th September-October 3rd 2015
Theatrical tour: the team meets first in Vitoria Gasteiz (Spanish Basque Country), then goes to Berlin, Budapest, Brussels and finally Swansea. Final partners meeting takes place in Berlin.