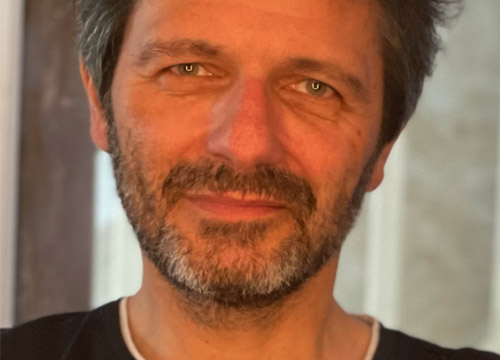 Bruno Freyssinet, artistic director of the projects,
theatre director

Bruno Freyssinet founded Transplanisphère company in 1996. He develops projects that use theatre to explore major political issues through international cooperation projects supported by the European Commission and national supports.
In the space of a few years, his work as a director has been enriched by his work as a designer, artistic director and facilitator of international projects. As a result, he has developed skills in setting up cooperation projects, particularly between organisations or institutions that do not work in the same disciplinary field. He also teaches at a number of schools and universities, including Sciences Po Paris (2019-2022).
Bruno Freyssinet trained at ENSATT Rue Blanche (theatre, 1990), Fémis (screenwriting, 2001) and Relais Culture Europe (European projects, 2010-2013).
In 2020, he received a Certification in European Cultural Innovation (Certification en Innovation Culturelle Européenne) from Relais Culture Europe for his work in this field over the past 14 years.
Since 2018, his company has been in residence at the Lycée Albert Schweitzer in Le Raincy (Seine Saint Denis) with the support of the Ministry of Culture, the Region and the Department.
In 2021, he was awarded the title of "Ambassador in Seine Saint Denis" by the Conseil Départemental (Paris Région, France).
In 2021, his company received certification from the Académie de Créteil (Paris Région, France).
It has also been a member of the Club Unesco since 2019 (French delegation).
2022-2024 LeCAKE
Erasmus+ Adult Strategic Partnership. Paris-Europe Label (Paris City Council). Agir 93.
Themes explored: ecology, sustainability, transition. 7 theatre companies and a think tank from Germany, Greece, Hungary, Italy, Portugal and France are creating tools to bring their work processes and their works into transition.
_____
2021-2023 Créative Commune 
Erasmus+ Adult Strategic Partnership.
Themes explored: commonality, co-creation, active citizenship. 5 artistic companies from Portugal, Germany and Italy explore inspiring historical events (Paris Commune, Carnation Revolution…) to create artistic proposals and imagine new methods of creation.
_____
2021-2023. Oratio Mix 
Erasmus+ Strategic Partnership for Creativity – School. Ile de France Region (Europe Unit). Agir 93.
Themes explored: interculturality, eloquence. 4 theatre companies and 6 schools from Germany, Italy, Portugal and France are creating educational sequences to explore intercultural dialogue through theatre.
_____
2022-2023 O_live
Erasmus+ School Strategic Partnership.
Themes explored: the values of Olympism: unity, respect, tolerance. 3 companies and 3 schools from France, Germany and Greece create educational sequences to question the values of Olympism through theater. The project targets 8-11 year-olds and their teachers.
_____
2019-2022. The European Integrity Games
Erasmus+ Adults Strategic Partnership. Paris-Europe Label (Paris City Council)
Themes explored: integrity, corruption, fraud. Tools: escape game, application. 6 European theatre companies are creating games to help European citizens understand the issues surrounding integrity.
_____
2020-2021. Trust Tour
Erasmus+ Youth Strategic Partnership

Through theatre and youth exchanges, 4 European theatre companies propose to question the relationship between the inhabitants of Europe, the crossroads of the world.  The partners are developing methodologies and artistic performances to strengthen the bonds of trust and the "common" in Europe.

_____
2017-2019. Les Actes du Désert (staging)
Performance choreographed and interpreted by Smaïl Kanouté. The show evokes the journey of a migrant who identifies his roots and embarks on the long journey to Europe. Performances in Paris, Thessaloniki and New York.
_____
2018-2024. Europefiction
Erasmus+. Ofaj. Land Ruhr.
5 European companies join a consortium of theatres in the Ruhr (Germany). With the help of artists from the 6 countries involved, 150 young Europeans question their future together and suggest ways forward through artistic creation. Each year, the participants design performances together and meet up for 9 days of artistic workshops in the Ruhr during the summer. The project is extended through Europefiction academy and Europefiction #NextGen.
_____
2018-2020. Grow from Seeds
Erasmus+ School strategic partnership.
Lead by Gaiety School of Acting (Dublin, Ireland). Intercultural education arts programme for primary school teachers and pupils. Through writing and theatre, Grow from Seeds aims to promote cohesion and inclusion, active citizenship and empowerment of European pupils.
2018-2020 Open European Societies
Partnership Europe for Citizens
The project brings together 11 partners from 8 European countries who work on issues of identity and migration. They investigate and testify on issues of xenophobia, discrimination and extremist discourse. The project aims to give voice to different accounts of migration and the European-migrant relationship through artistic workshops and video publications.
_____
2016-2019. Polart Circle
Erasmus+ Adults Strategic Partnership.
Polart Circle creates a platform of partners on a European scale associating artistic companies, universities and citizen NGOs. Activities bring together artists, teachers, experts and young people interested in the relationship between art and politics. Workshops, research, production of methodological web content and events.
_____
2014-2016. Hotel Obscura
EACEA-EU Culture Programme.
Design and artistic direction for an Australian cooperation project with Greece, Austria and France. It questions the place of the hotel in the public space and the fantasies it conveys.
_____
2013-2015. One Land Many Faces
EACEA-EU Culture Programme. French Institute.
Artistic project on the idea of European identity in the context of European countries in identity crisis (Spain, Great Britain, Belgium, Germany, Hungary, France). Creation of the show in 2015 at the Carreau du Temple, Paris, then tour in the 5 countries of the partnership.
_____
2011-2014. World Crisis Theatre
EACEA-EU Culture Programme.
Questions the financial crisis and its political and social consequences in Europe, in the context of the economic crisis and the debt crisis. Involves 6 other European countries (Greece, Italy, Portugal, Germany, Sweden, Iceland). Creation of the play The European Crisis Games, which toured Europe in 2014.
_____
2011-2013. Rec>ON
EACEA-EU Culture Programme.
Part of a cooperation between artists from Turkey, Armenia, Germany and France on the theme of Reconciliation, in the 4 partner countries. Gave rise to the play Les Descendants (Aquarium, Cartoucherie, tour Berlin, Erevan, Wuppertal, Gumri). The European Commission is using this project in 2012 in its Audience Development brochure and Bruno Freyssinet is a speaker at the European conference on this theme in Brussels.
_____
2008-2010. Stuff happens
Stuff Happens, things that happen by David Hare, Théâtre Nanterre Amandiers and TNP Villeurbanne. Co-directed with William Nadylam.
Creation in France of a play featuring the main political leaders of the Western world from 11 September to the Iraq war. The project is part of a wider initiative by the company to promote debate and political reflection in the theatre in Europe.
Création en France d'une pièce de théâtre mettant en scène les principaux dirigeants politiques du monde occidental du 11 septembre à la guerre d'Irak. Le projet s'inscrit dans une démarche plus large de la compagnie qui vise à promouvoir le débat et la réflexion politique au théâtre en Europe.