Large-scale community project involving local inhabitants, associations and schools in Le Raincy (93) to create a theatrical performance together to celebrate the 150th anniversary of the foundation of their town. Over 9 months, 250 participants from all generations rediscovered the history of their hometown, from the middle ages until the present day.
How could the history of le Raincy be retraced, within the history of France and the world? This was the challenge facing the 250 Raincéens that embarked on this project, as much from an attachment to their city today as a curiosity to its origins. With the help of professional artists and under the guidance of the municipality, they explored the chapters in the history of this unique territory of Ile de France. 
A thousand years of history
We begin in the Middle Ages. Imagine a young monk, fear in his heart, travelling through the mysterious forest of Bondy. Sent by the Canon of the Abbey of Tiron, his charge is to construct a priory on the land of Lord Beaudoin de Villefix. 
A few centuries later, under Louis XIV, the new territory takes flight, with the construction of a magnificent royal castle designed by the architects of Vaux le Vicomte and Versailles! A prosperous period ensues, during which Molière and Princess Palatine became renowned, giving le Raincy its letters of nobility. Then came the Revolution and the abandonment of the castle to give way to a young and promising city in 1869, built along the paths of the former Royal Park. Throughout the twentieth century, the city has its dark pages, as well as its moments of brightness, to embody today the peaceful city that we know.
A show for all the family
For two evenings, the Place des Fêtes of le Raincy was transformed into an outdoor theatre, with 250 Rainéens, of all ages, on stage: actors and actresses, musicians, dancers … coming from local associations and schools. Together, they revisited an astonishing past and imagined, through the eyes of its children, a vision for the tomorrow's town.
Meetings for project design and preparation. Formation of a steering committee. Documentary research. Writing meetings with historians. Preparation of creation sites, cutting.
Writing of the show. Training of artistic teams. Beginning of rehearsals. 
Production, rehearsals, scenography, costumes. Construction of an open air theatre (Place des Fêtes, Le Raincy).
20th – 21st September 2019
2 performances in front of 1200 spectators. 
Director: Bruno Freyssinet
Artistic Team: Jérôme Bimbenet, Laura Jouvet, Noémie Laurens, Catherine Pascal, Clémentine Sénéchal, Bernadette Thuriès, Géraldine Zelazny
Composer and musical director: Stéphane Dietrich
Orchestre Opus 13 under the direction of
Dominique Spagnolo
Choir of the Conservatoire under the direction of Lionel Cloarec
Head of costumes: Bénédicte Poirier
Costumes : Ville de Montfermeil, Costumes sur Seine, Isabelle Borg, Géraldine Zelazny
Historical consultation: Société Historique du Raincy / P‌hilippe Delbar, Annick Reboul, Jacques Roca
Associated artistic associations: La Transplanisphère, Les 400 Zooms, Lentement Mais Sûrement, Corps et graphie
Lights and sound: Expert Event / Sébastien Morgan, Quentin Douriez, Soyann Mankouri
Stage hand : Sonia Vandomme
La Transplanisphère Production Team: Bruno Freyssinet, Noémie Laurens, Clémentine Sénéchal, Kennedy Cassy, Marie Kermagoret (OV)
Orchestra Opus 13
Director: Dominique Spagnolo
Violon solo: Gabriele Dello Preite
Violoncello solo: Guillaume Combarieu
Viola solo: Pascale Maisonnave
Clarinette solo: Sylvain Morel
Flute solo: Nouheila Capron
Gabriele Dello Preite, Akel Kalie, Yukako Yanagohara, Estelle Diep, Kyoko Yamada, Yves Rossignol, Adu Dazy, Margot Le Maréchal, Grégory Fatout, Rémy Granger, Stéphane-France Léger, Julien Voisin, Nathalie Biout, Pascale Maisonnave, Marlène Vankerckhove, Hélène Veinrech, Anne-Marie Chatain-Tassy, Sylvain Morel, Olivier Romieu, Stéphanie Fievez, Lorraine Guéguin, Marion Saussine, Francesco Tigano, Pauline Fontaine, Guy Lefebvre, Marguerite Bouret, Anne-Claire Derré, Sakura Lafage, Sixtine Lockhart, Solange Robin, Hélène Barraud, Marianne Entat, Guillaume Combarieu, Berengère Cordier, Frédérique Lefevre, Delphine Marmande, Xuan-Thuy Phan, Arnaud Rémy, Camille Huvet
Cast
Laurent Cléry, narrator      
Scene 1: Forest             
Rémi Routier, Schweitzer high school   
Adame Bakhtaoui, Romain Foshia, Timothée Mathieu, Manal Nait El Asri, Lou-Anne Selbonne, Axelle Tane, Les Fougères school (Nicole Sowa, Stivan Quatreville)
Deniz Arslan, Diego Bernabeu, Emma Bonte, Amina Chérif, David Dionnet, Eliot Hamelin, Coline Martin, Elisa Menigand, Ecole Thiers (Isabelle Mendez)
Mariem Mati, Julie Stelmach, Ecole La Fontaine (Carole Doyen)
Sabri Redjah, Collège Corot
Eugénie Duclos, Agathe Forget, Marguerite Génot, Wanda Pierre, Kany Sanogo,
Irène Soler Mimazzoli, Ilana, Zelikson
Compagnie Corps et Graphie, choreography and direction Catherine Pascal et Laura Jouvet
Scene 2: Château life             
Logan Calmon-Berdah, Pauline Canet, Léonie Castelli, Louis Castelli, Alexandra Ceccato, Olga Chuklinova, Béatrice Clavel, Pascal Cointré, Tom Creuzet, Maxime Das Neves, Pascale Decressac, Annie Delettré, Thierry Derbez, Muriel Dragoni, Catherine Fontaine-Pellier, Amandine Gambarin, Carla Gambarin, Héloïse Gendre,
Sylvain Kouhanna, Margaux Le Mevel, Régis Lefevre, Stella Lefèvre, Corinne Lorenzi, Sophie    Micka, Jean-François Nodot, Martine Parisot, Léa Péchaud, Marthe Platz, Emmanuel Rivoal, Kany Sanogo, Magali Tavares, Marjolaine Teillant, Mélissa Tomasina
Compagnie Les 400 Zooms, writing and direction Bernadette Thuriès    
Poulet et Champignon Noirs, Joséphine Holleville – De Tournemire, Axelle Tane, élève d'Eric Wattelle, au Conservatoire du Raincy. Wei Chang Wang, piano accompaniment. Grégory Jacinto, collège Corot    
Les Révolutionnaires, with the participation of Judo Club Raincy Villemomble
Scene 3: Foundation             
Frédérique Datain, Pauline De Quatrebarbes, Claire Gayrard, Grégory Jacinto, Laurène Goncalves, Pascal Guengant, Philippe Lacroix, Nino Leiciagueçahar, Nacho Macias, Martine Parisot, Charlotte Reversé, Stéphanie Stankiewicz, Enora Tubeuf, Virginie Tubeuf, Alexandre Varneau, Gabriel Zelazny-Marcel   
Compagnie Lentement Mais Sûrement, writing and direction Géraldine Zelasny  
Agathe Forget, Jeanne Foujanet, Caroline Garnier, Solène Courilleault, Justine Lacroix, Eva Pereira, Iris Ramassamy, Esther Simonini – Association Corps et Graphie, direction Catherine Pascal and Laura Jouvet
Pascal Cointré, Amina Chérif
Scene 4: 150 years in History            
Diego Bernabeu, Jérôme Bimbenet, Célia Bolzoni, Logan Calmon-Berdah, Emma Carneiro, Kennedy Cassy, Adeline Chave, Amina Chérif, Pascal Cointré, Xavier Damas, Frédérique Datain, Pascale Decressac, Thierry Derbez, Stéphane Dietrich, David Dionnet, Muriel Dragoni, Christian Egido, Jacqueline Ferreira, Claire Gayrard, Laurène Goncalves, Pascal Guengant, Grégory Jacinto, Sébastian Jung, Sabrina Kachour, Sylvain Kouhanna, Philippe Lacroix, Régis Lefèvre, Kristel Letalour, Nacho Macias, Sophie Micka, Jean François Nodot, Pierre Reinert, Charlotte Reversé, Emmanuel Rivoal, Julia Selge, Louise Selge Marie, Clémentine Sénéchal, Cléo Sens, Stéphanie Stankiewicz, Eric Tabourier, Bernadette Thuriès, Marjorie Trost, Virginie Tubeuf, Alexandre Varneau, Géraldine Zelazny.  
Mélina Guillon, Alicia Kasparian, Ecole Tebrotzassère under the direction of Haïg Sarkissian
Adame Bakhtaoui, Romain Foshia, Timothéé, Mathieu, Manal Nait El Asri, Lou-Anne Selbonne, Axelle Tane, Deniz Arslan, Diego Bernabeu, Emma Bonte,
Amina Chérif, David Dionnet, Eliott Hamelin, Coline Martin, Mariem Mati, Sabri Redjah, Julie Stelmach / schools La Fontaine, Thiers, Les Fougères   
Thomas Robin, student of Gaël Ascal – Conservatoire du Raincy   
Julia Allary, Marcel Bigogne, Manuella Billault, Jérôme Bimbenet, Martial Bone, Danielle Darbois, Alain Garabedian, Maurice Grougnet, Eliane Guerin,
Catherine Laidebeure, Suzy Laroche Prost,  Danielle Leclercq, Christiane Legras, Huguette Noleo, Françoise Pybaro, Danielle Soka, Jean-Louis Vincenti
adult choir of the Conservatoire, under the direction of Lionel Cloarec   
With thanks to…           
Xavier Maître, Père Benoist (appointee of the church of St Louis), Association Judo JCRV and Kamel Challal, Catherine Minotte and her team at the library, the teachers of the Conservatoire and Bruno Perello, Sylvain Ricci and Vincent Muller (Direction of Lycée Schweitzer), M. et Mme Bolève, Jeanne Muller, Haïg Sarkissian, Director of école Tebrotzassère,
and all the volunteers who helped us throughout this project. 
Thank you to the elected officials and staff of the town council who made it possible to carry out the project.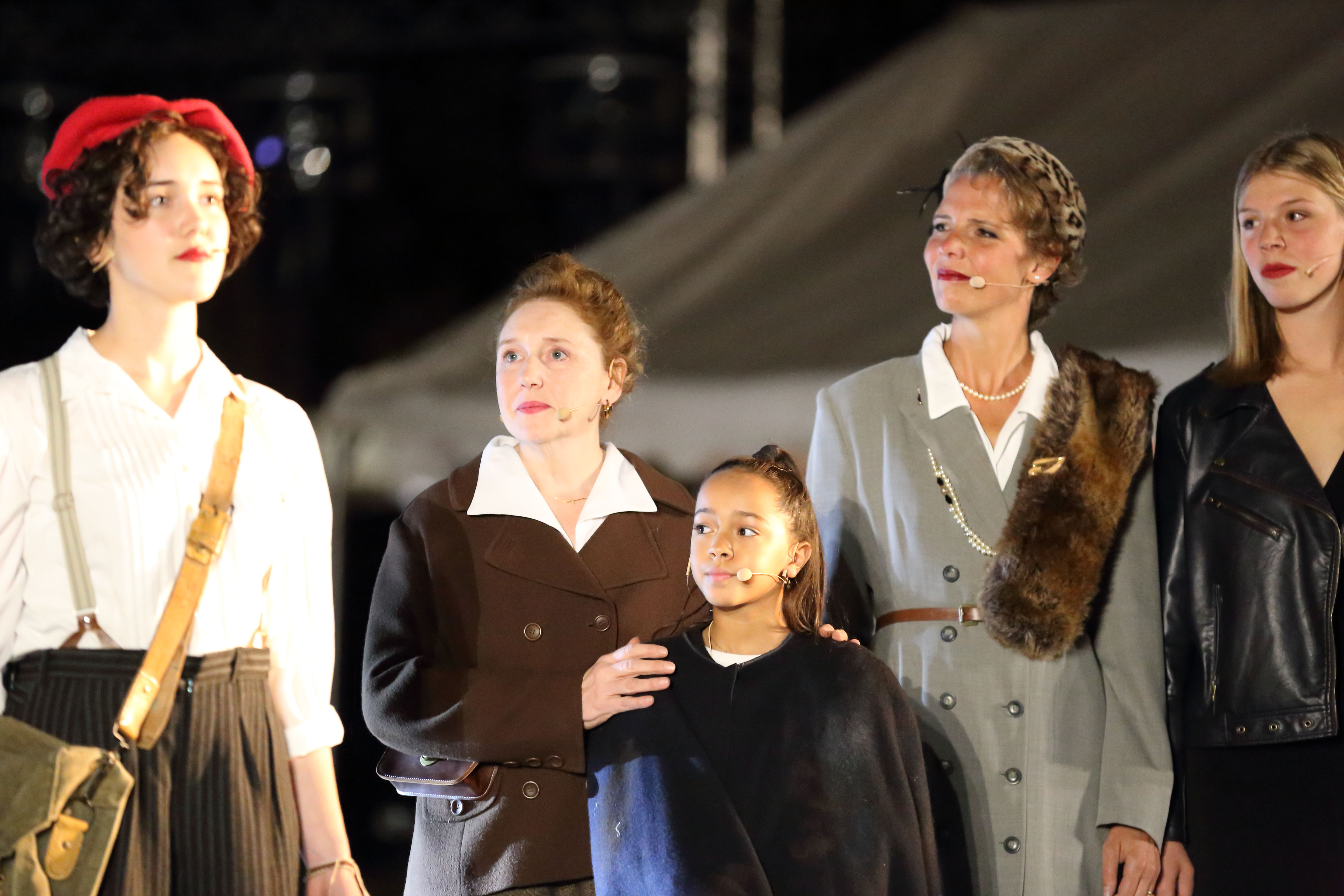 In front of an audience of 1,200 spectators gathered at the Place des Fêtes at Raincy (93), La Transplansiphère presented the show of the 150th anniversary of the City, in collaboration with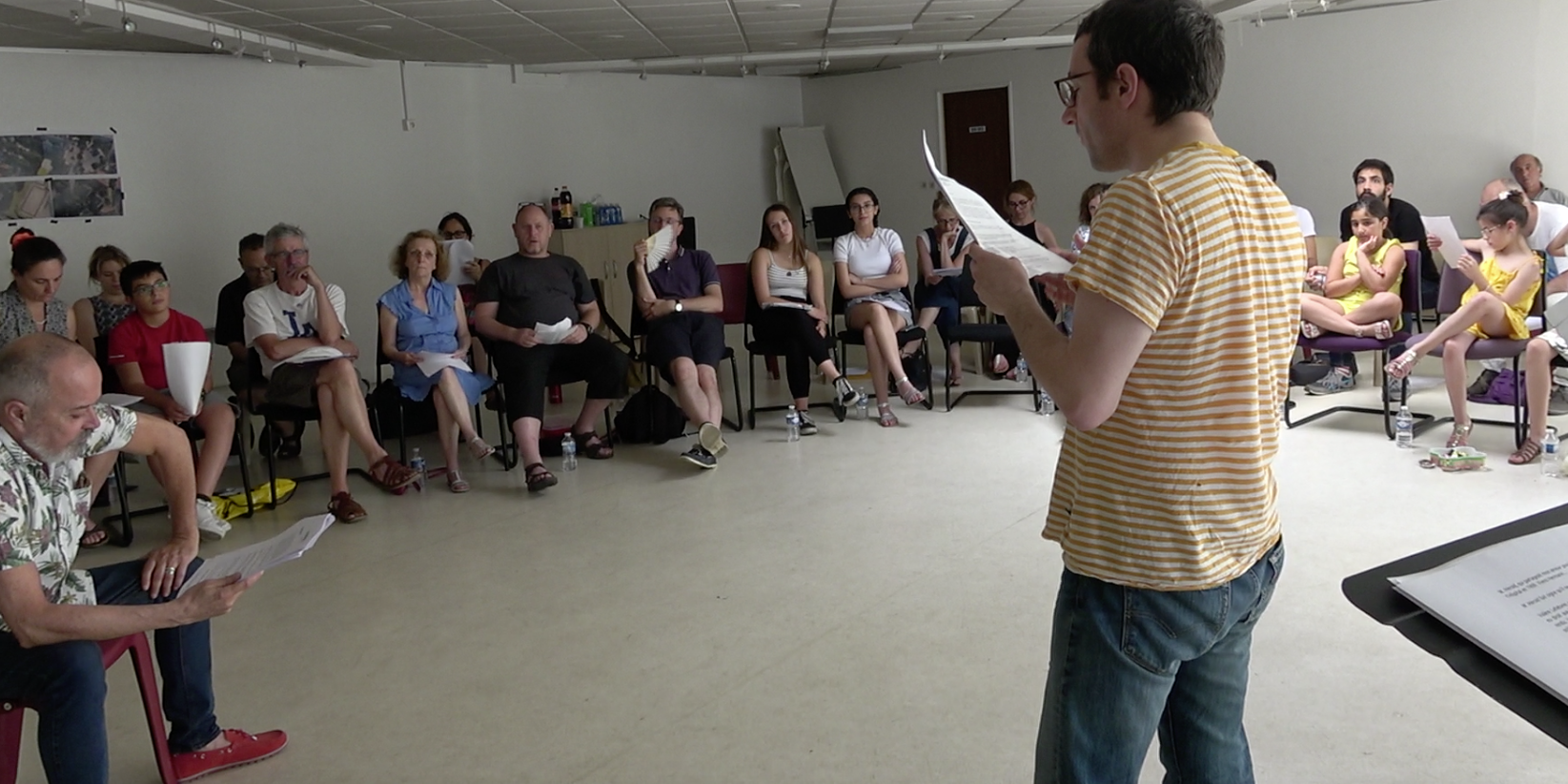 The amateur and professional actors participating in the anniversary show of 150 years of the Raincy city (93) met for great reading at the Agora of the city. The team of the Transplanisphere,