Grow from Seeds – Feedback from training in Clichy sous Bois, Grand Paris
The feedback is in for training sessions conducted by Transplanisphere in October and November 2019, to teach the Grow from Seeds methodology to CM1-CM2 teachers (8-10 years old) in Clichy sous Bois, Grand Paris. The 50 teachers, hailing from local schools, were asked to complete a questionnaire evaluating their experiences learning the method, which promotes intercultural dialogue through creative writing and theatre. 
Overall, the evaluation results were very positive. The majority of the participants found the training useful and relevant to their field of work. All participants said the training was presented in a successful way (77,8% strongly agree, 22,2% agree), that the training objectives were achieved (61,1% strongly agree, 38,1% agree), and that they would recommend the training to a colleague (69,4% strongly agree, 30,6% agree). The main objectives of the project seem to have been met; 88,9% of participants said they felt more confident using theatre and storytelling techniques in the classroom (52,8% strongly agree, 32,1% agree) and 77,7% said they were ready to apply the program with their class (33,3% strongly agree, 44,4% agree).
Question 1. The objectives of the training were clear to me from the beginning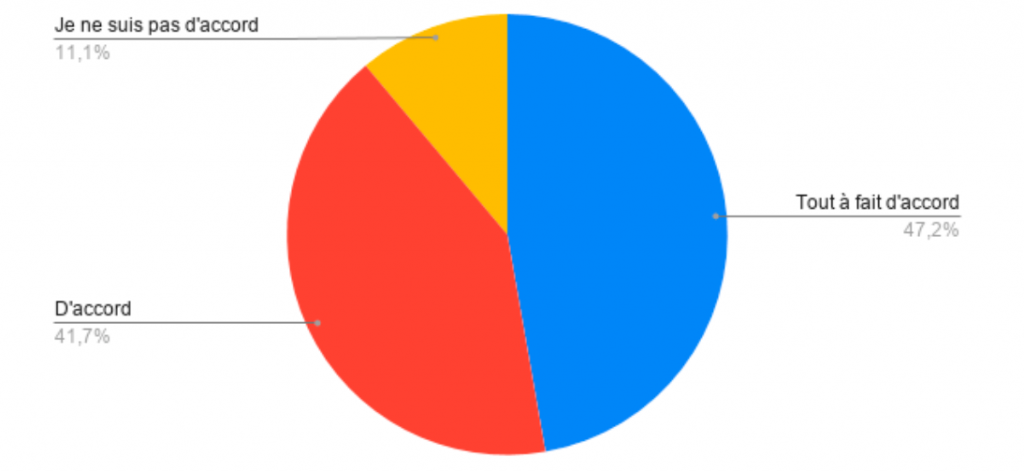 Question 2. The objectives of the training were acheived
"Again, thank you for this training. Very rewarding and thank you for your sense of sharing that made us immediately adhere to the project and make us want to do it with our students."
"Training very rewarding professionally with a method that can be practiced without delay in class…"
"Training really interesting and relevant because even if we can not achieve the project in its entirety it is quite possible to use steps in writing productions in particular. A big thank you to all the trainers for their kindness, their caring and their smiles!"
"I discovered a way to bring theatre to class that encourages me to reproduce it. Thank you!"